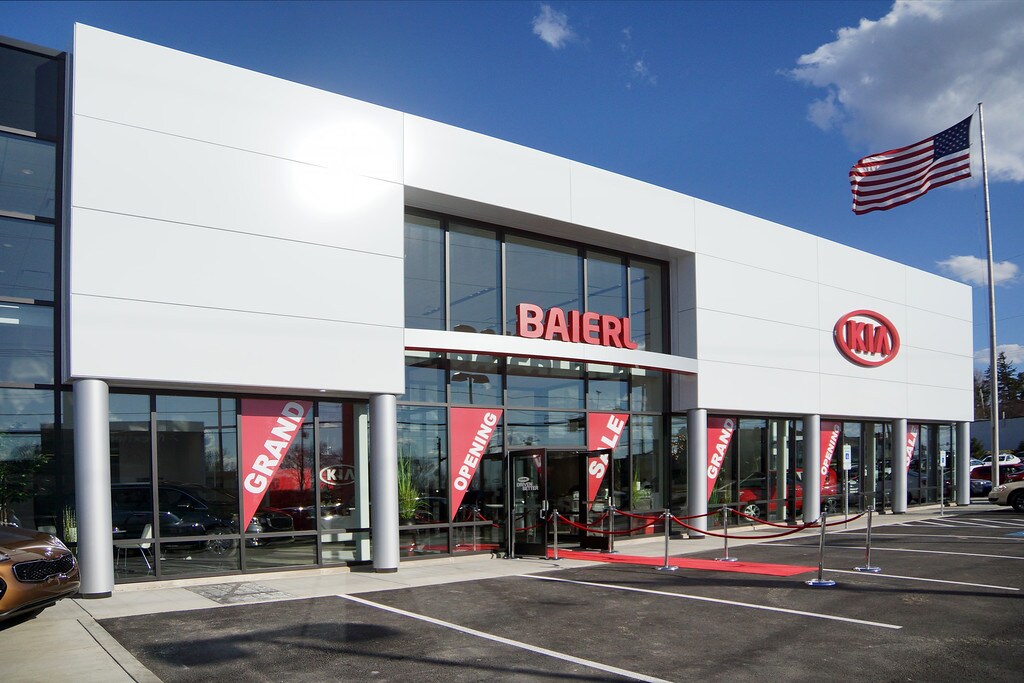 Baierl Kia is Driven to be Better.
A company philosophy that permeates all aspects of their business
At Baierl Kia, you'll see more than just one of the largest dealerships in the tri-state area with the hottest brands on the road. You'll see a company that's driven to be different than the conventional car dealership.
"Who ever said buying a new car had to be hard with intense negotiations and games? We believe the experience of buying a new car should be the opposite. In fact, it should be thrilling," says Lee Baierl, President of Baierl Kia.
Choosing to take on the common perception that buying a new car is a hassle, Baierl Kia has adopted a new mantra, 'Driven to be Better'. The company approaches everything from shopping to buying a new Kia and finance to service like no other business. They seek to serve their customers rather than merely sell to them. They seek to be better than they were the day before. And they certainly desire to be better than their competition. It's a vision that has inspired the company since the very beginning.
The Baierl ingredients for an ownership experience like no other are simple: hassle free buying, an incredible selection and Baierl's low price promise. They believe it's been the core of their success. "We treat our customers right. It's what drives us everyday," says Baierl.
It all starts with a can-do attitude when a customer is encountered,  whether it's online, on the phone or in person. Baierl couples that with a belief in education, not ambiguity. "We're dedicated to educating our customer and providing the absolute best choices. We have the brands, OEM Kia parts and the inventory customers want," says Baierl. Baierl also believes their team members are the best-trained and most knowledgeable around, offering customers clarity throughout the buying process. Baierl says it's about being honest and showing respect, something found to be remarkably absent in many car-buying experiences. 
Baierl has been serving the area for more than six decades. Originally a lone Chevrolet store located in Ambridge, the company moved to Wexford farmland in the early sixties. As the area boomed, so did the company, adding a total of eleven franchises throughout Cranberry, Wexford, Zelienople and the North Hills. The company is proud of its vast inventory. Not because they like to tout numbers, but because it ensures they can match the right car or truck to any given customer.
It doesn't end there. Baierl is driven to be better after the sale as well. Baierl offers one of the best warranty programs around, with features such as free roadside assistance, free state inspections, free shuttle service, lifetime engine assurance, free paintless dent repair and more. Their goal is to offer convenience throughout the life of every vehicle.
Team members are thought of as the key to the company's success. Whether in sales, service or finance, everyone pushes to be better every day.